User-generated content. Some say it's the future, others a fad. At the very least, it's a buzz word. But underneath the buzz, what's actually going on?
New technologies have made it easier for people to create media. Today's audiences document almost on instinct, sharing their images on platforms like Instagram, Facebook, and Flickr. Content makers are experimenting with ways of incorporating viewer submissions into existing properties. It's now routine to see viewer-generated footage in "breaking news" segments, and major companies, such as Apple and Google, have created advertising campaigns celebrating their customers' content creation.
[youtube]http://www.youtube.com/watch?v=TlVn_icKHZ8[/youtube]
[youtube]http://www.youtube.com/watch?v=vSAje0EgYjY&feature=relmfu[/youtube]
That being said, media making isn't the same as storytelling. Taking photographs or video doesn't in and of itself create a narrative (although they're certainly related). Shaping a coherent story is a major challenge for projects that use viewer-generated footage. Although these projects have many creators, they still seem to need an author–or at the very least, an authorial vision.
18 Days in Egypt uses the 2011 Egyptian revolution as an organizing narrative, but the website acts almost as an archive. The project is like a thematically-unified YouTube, allowing viewers to find their own narrative by browsing hundreds of clips.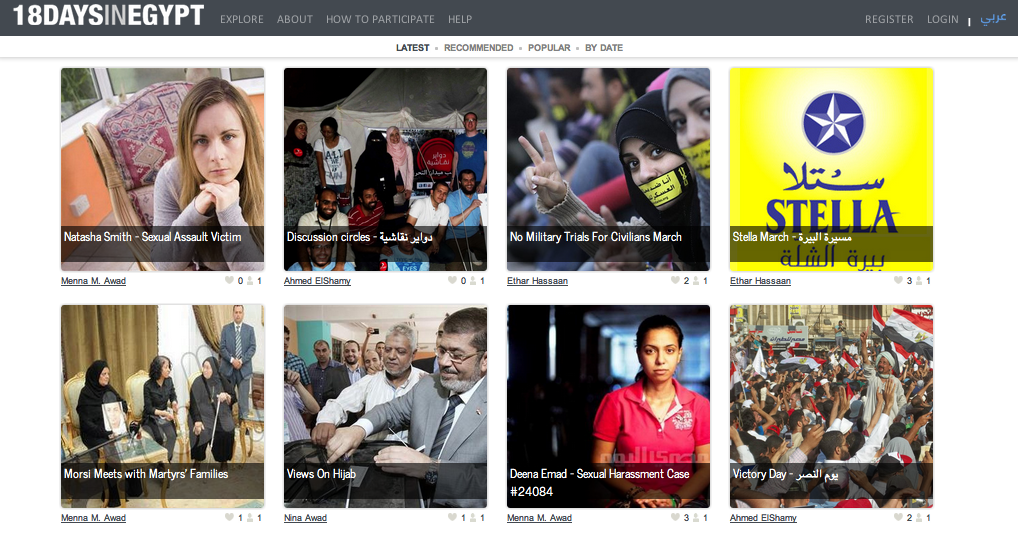 One Day on Earth, built using viewer-generated footage, organizes submissions on a map, which gives unrelated clips a spatial logic. Director Kyle Ruddick also created an edited linear film that combines footage thematically.
[youtube]http://www.youtube.com/watch?v=c3Nj72EZZvs[/youtube]
For decades, professional media-making has been a one way street. Producers make media, viewers watch it. While many "user generated" projects democratize content creation, the storytelling is often in professional hands. Curators and filmmaking professionals select, shape, and feature certain clips.
The recently launched Amazon Studios provides a counterexample. In the past year, Amazon has beefed up its Prime streaming library in an attempt to rival online streaming powerhouses Hulu and Netflix. Like those sites, Amazon recently announced that it would be developing original programming. When selecting a slate of original content, Netflix and Hulu went for known properties from established writers. Hulu's freshman series, Battleground, was produced by Mark Webb of 500 Days of Summer. Netflix recently launched Lillyhammer, starring The Soprano's Steve Van Zandt, and will be releasing the David Fincher-helmed House of Cards next year.
Amazon Studios, by contrast, put out an open call for pilot scripts. Anyone could submit, and every submission was reviewed by Amazon's team. Last week, four user-submitted pilots were selected for development. After a period of review and revision, Amazon may produce these shows.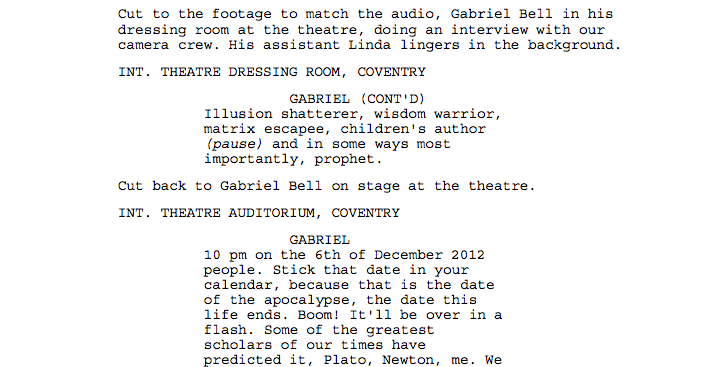 Excerpt from the pilot for Doomsday, by Nathan Thomas. Selected by development by Amazon Studios, Doomsday is "a mockumentary about the… end of the world."
While user-generated footage is seemingly everywhere, this is one of the first instances I've seen of a studio asking for user-generated stories. Brands have experimented in this area. For the past few years, Doritos has hosted a Crash the Superbowl contest–soliciting viewer submissions for the brand's Superbowl ad spot. When Doritos' now infamous "Dead Cat" spot aired during last Superbowl, most viewers were unaware than it was created by Jonathan and Matthew Friedman of Virginia Beach, Virginia– not a professional advertising agency.
[youtube]http://www.youtube.com/watch?v=GQ4K-TZXt7E[/youtube]
Today, film and television storytelling is considered a professionalized skill. Just ask the Writers Guild. While Amazon's story development team are gatekeepers of sorts, the open call for viewer scripts hints at the same kind of attitude than animates user-generated projects. While it's unlikely that the model would be scalable to a larger or more established studio, it's an experiment worth watching. Where else are content creators trusting their audiences with story?
Katie Edgerton/MIT