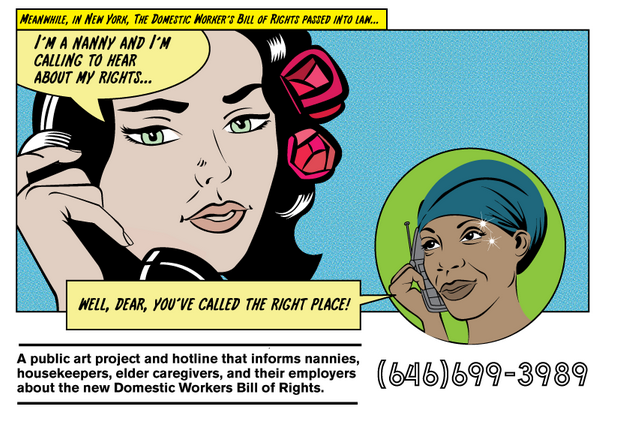 Exciting news here at MIT. New Day, New Standard, a hotline and cross-media art project that informs domestic workers about the new Domestic Workers Bill of Rights, recently received a grant from the Tribeca Film Institute's New Media Fund. MIT's Center for Civic Media partnered with the New Day, New Standard team to adapt VoiP Drupal, an open-source mobile toolkit, to the project.
According to the New Day, New Standard team,
Built on an open source framework, 'New Day New Standard' is a hybrid application that combines regular touchtone phones, Internet-based telephony, and performance art to create an interactive Spanish/English know-your-rights audio campaign for domestic workers and their employers in New York State.

But this is no drab and dry reading of the law. When you call the 'New Day New Standard' hotline number, you hear what sounds like a radio talk show, 'hosted' by Christine Lewis, a real nanny in New York whose charisma as a social justice organizer landed her a guest spot on The Colbert Report.

Equal parts advice and humor—think NPR's "Car Talk" for nannies—the episodes cover topics ranging from minimum and overtime wages, vacation time and paying your taxes, to modern day slavery and trafficking. Listeners can also get connected directly to different social services, such as legal support or community organizations working around a variety of needs.
MIT Professor Sasha Costanza-Chock (Co-Principal Investigator at MIT's Center for Civic Media), Becky Hurwitz (Codesign Facilitator and Community Organizer at the Center for Civic Media) and Leo Burd (Researcher at the Center for Civic Media) worked closely with New Day New Standard team, including Artistic Director Marisa Jahn, in a collaborative design process.
Becky breaks down the co-design process in a fantastic and instructive case study of MIT's and New Day, New Standard's collaboration.
The hotline has been implemented with VoIP Drupal (http://groups.drupal.org/voip-drupal), a versatile open source communications toolkit that brings the power of voice, SMS and Internet-telephony to Drupal sites. Since VoIP Drupal has been specifically designed to facilitate community outreach and provide an online presence to even those who are technically challenged, or who do not have regular access to computers, it seemed to be the perfect solution for the implementation of the New Day, New Standard system.
Congratulations to Sasha, Becky, Leo, and everyone at New Day, New Standard.