Macaronic Dialogues and Interactive Media
by Marisa Jahn (REV-)
*    *    *    *    *    *
Marisa. Artist type. Rough around the edges.
Melissa. Sharp and well-read, but not an academic; well-groomed, well-poised. Lives in the Upper West Side of Manhattan (a liberal and upscale neighborhood); runs a part-time design blog and is a full-time mom. Unbeknownst to Melissa, she is who Marisa imagines as her better half (i.e.,"Melissa could give my TED Talk"). Melissa is fictional, a figment of Marisa's imagination. 
Here, Melissa is a little suspicious of Marisa's motives in selecting her as the interlocutor for this particular conversation.
Melissa [glancing down at her notes]: So am I correct that we are to discuss The NannyVan which is a project that you and your team at REV- are currently working on, right? I have here that it's a participatory media project. It says here that the NannyVan is a "mobile design lab and sound studio that accelerates the movement for domestic workers' rights." Let's start there. What does that mean?
Marisa: We'll get to that. Maybe I should describe how it evolved from its antecedent, New Day New Standard — which is what we call a "public art nanny hotline."
Melissa [relaxed now, shoulders back, smiling]: Okaay. So why don't we start with New Day New Standard.
Marisa: Well, in 2010, the New York Domestic Workers' Bill of Rights passed into law, guaranteeing nannies, housekeepers, and eldercare workers basic workplace rights like time-and-a-half overtime pay, days of rest, and more. I remember when I first heard that the law had passed — I was working with a group of street vendors at the time, who, like domestic workers, are members of the excluded workforce —
Melissa: "Excluded workforce"?
Marisa: Right. To understand what this means, we have to look back to when New Deal Laws granted most workers rights to worker's compensation, minimum wage, overtime wages, days of rest, the 40 hour work week, and so forth. But Southern lawmakers, seeking to control the African-American workforce, intentionally excluded domestic workers. Also excluded were shoe-shiners, restaurant workers, farmworkers, street vendors, and other "tipped workers" like restaurant workers who are excluded from minimum wage laws.[1] So while there are many good things that came out of these New Deal Laws, they also reified existing hierarchies that fell along racial and ethnic lines. But — this is a really exciting time because domestic worker laws around the country are changing.
So after the New York Domestic Workers' Bill of Rights passed, a local advocacy group approached REV- (the art, media, and social justice organization I direct) to help create a way to get the information out to the state's 200,000 domestic workers about their new rights. REV- had been providing media production training to their members for years prior. In New York, domestic workers are 95% immigrant women with low print literacy levels — so newspapers aren't their primary source of information — who often work long hours and in isolation. We also know that they aren't regularly listening to the radio. But one thing that most domestic workers have is a basic cheapie cell phone. So our challenge was to think of the cell phone not as a receiver but also as a broadcasting device that can deliver information to workers at any hour.
Melissa: So how does it work? Walk me through this…
Marisa: Ok. So you are a worker and you call in the phone number (347) WORK-500. When you dial in, you hear what sounds like a radio program in which Miss Know-It-All, a fictional character with a Long Island accent, is in conversation with a real-life nanny named Christine Lewis. You hear a menu, and from there, you can select which 'episode' you want to listen to.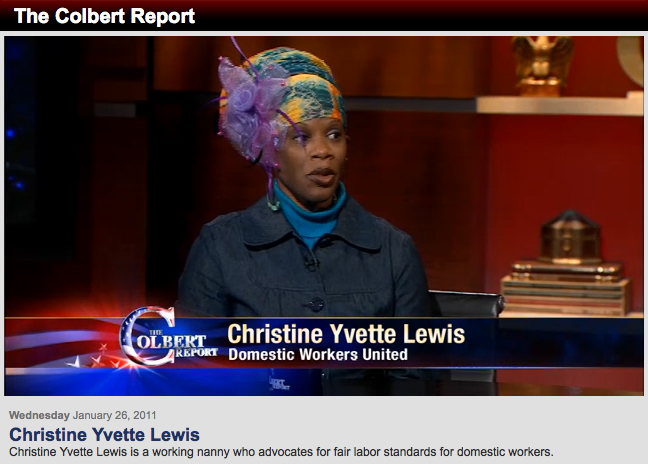 [Marisa hands Melissa her cell phone] Here — call in.
Melissa [puts down mic for a sec to call in. She hears the aforementioned menu which offers episodes about overtime wages, paying your taxes, modern day slavery and trafficking, days of rest, etc.]. Ah! Yes, I get it now!
Marisa: Yeah. So think of it like an app — but for ordinary cell phones.
Melissa: Ah! I see. And as we were walking into the recording studio this morning, you mentioned that you are working on new interactive functionalities to this "app."
Marisa: Right. So we are now working on a national version in which you can call in to hear episodes about your rights in different states in the U.S. There are also episodes germane to all domestic workers — such as the history of the movement, health and safety tips, how to talk about a contract with your employer, and so forth. And like the first "public art nanny hotline" (New Day New Standard) you can also be referred to legal support services, domestic worker groups, and so forth.
BUT, what's cool is that in this one, you can subscribe to receive weekly text messages, survey your peers, participate in a live conference component, and record a "voice tweet" that's heard by other workers when they first call in.
[vimeo]https://vimeo.com/84907598[/vimeo]
Melissa: "Voice Tweet"?
Marisa: Yeah. As an example, you know when you're listening to public radio and you hear a little message from a listener on the program? NPR has these "Listener Haikus" or Radio Lab has listeners call in to record the credits. It's fun, because as a listener yourself you feel implicated — you feel like you too could call in and be a part of this project. Bertol Brecht referred to this as the breaking of the fourth wall in which the self-contained theatrical piece bursts into the audience. Jochen Mecke describes how Charles Dickens' works were serially published, which allowed him to get feedback and incorporate that feedback into subsequent installations of what would later become a single book. Let me just read that to you here.
We can [also] resort to literary history to find examples of dialogical narration: the most famous case of an author's including his readers directly in the writing process is probably Charles Dickens, whose novels were prepublished by installments in the feuielletons of important newspapers. This gave occasion for Dickens to invert roles and to become in the pubs of London the attentive listener of his readers; they explained to him how they imagined the continuation of the story and what they thought about its characters and composition. These "great expectations" of the public made it possible to continue the dialogue thus begun within the novel itself. The readers took part in the composition of the work, and the author conceived his actual writing partly as an answer to their requests and anticipations. By such a procedure readers' reactions are systematically incorporated in into the signifying process itself, and the author can use them as a basis for further development. He may fulfill readers' hopes or disappoint them ironically and thus initiate a pleasant, stimulating game with them. [4]
So this process of systematically of incorporating readers or participants into the signifying process itself is an important part of our larger goal of building a movement. Imagine that you are a live-in nanny working in isolation. You hear about the project — perhaps through another nanny who approaches you in the park or in the library — and you call in to hear and participate in a program that is specifically created for someone like you. Maybe you haven't even thought of yourself as a "worker" — maybe you've thought this was just a part-time thing or something you're doing for a few years before you go home in a different country. You then start to hear these episodes that valorize the labor you are doing as "work" and you begin to identify as someone who is in fact entitled to basic human rights. Maybe you then look for a domestic worker organization and go down to a meeting and join the movement.
To be continued…
NOTES
[1] "Unity for Dignity: Expanding the Right to Organize to Win Human Rights at Work." A report published by the Excluded Workers Congress, 2010.
About the author
Of Chinese and Ecuadorian descent, Marisa Jahn is an artist, writer, and activist. Jahn is the Executive Director of REV-, a New York based team of artists, journalists, technologists, low-wage workers, immigrants, and teens whose public art and creative campaigns accelerate social change. A former graduate and Visiting Scientist at MIT, her work has been presented at venues such as The White House, Studio Museum of Harlem, Museum of Modern Art, Walker Art Center; received grants and awards such as Tribeca Film Institute's New Media Fund, Rockefeller Cultural Innovation Fund; and received reviews in media such as ArtForum, The New York Times, The Wall Street Journal, BBC, and more.