TRUST (the presence of secrets) by Sarah Newman, Jessica Yurkofsky and Matthew Battles
Last week at ODL Sarah Newman, Jessica Yurkofsky and Matthew Battles described their work at Harvard's metaLAB and presented Sarah and Jessica's recent project TRUST (the presence of secrets). metaLAB, which is affiliated with Harvard Law School's Berkman Klein Center for Internet & Society, is a small design lab, production studio and research group exploring technology's role in the arts and humanities. Notable projects have included "The Life and Death of Data," a data visualization and scholarly work about the Arnold Arboretum; "Notes from El Saniyya," an interactive history-telling project with OpenDocLab Fellow Lara Baladi about the 2011 Egyptian revolution; and "Feral Trees," an interactive documentary about Ailanthus altissima, or the "Tree of Heaven," one of the most prevalent examples of the weedy urban tree.
Before presenting TRUST (the presence of secrets), Sarah handed out a survey to the meeting's attendees that questioned their beliefs regarding the legal, practical, privacy-related  and ethical dimensions of what happens to our digital correspondences after we die. This segwayed into the following discussion about TRUST, an interactive installation that was installed during four overnight exhibitions at the Museum of Fine Arts in Boston in Fall 2016 and considers what might happen to our digital correspondence – now, and in the future.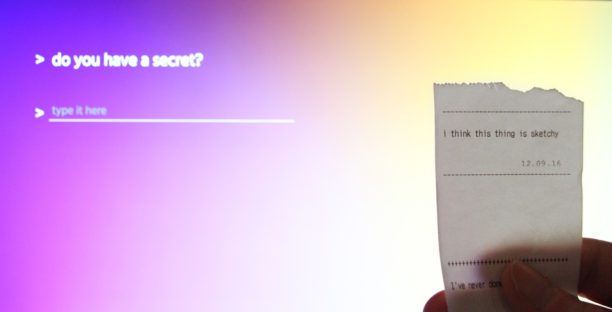 The installation involved computers on pedestals that prompted the user to anonymously type in a secret which then would print out on a receipt at random that could be collected elsewhere in the museum.  Interspersed with the printed secretes were occasional surveillance photos of the subjects at the computer consoles, rendered in anonymous silhouettes, that instilled a creepy feeling of being watched.
The project was informed by research done beforehand by the creators and with the help of the Berkman center on the uncertainty around laws governing ownership of our emails after death and prompted conversations at ODL about the privacy and longevity considerations of personal correspondences in the digital age of email, Facebook messenger, WhatsApp and Snapchat. Yet despite the clear questions regarding surveillance and the erosion of privacy that pervaded the installation, Sarah said that she was surprised by the sense of joy the experience seemed to emit from its users. The 1400 confessions logged into the system predictably included a lot of dark experiences involving sex, love, depression and loneliness, she said, but bringing those skeletons out into the light may have brought its own sense of relief. Who doesn't, the success of the installation suggests, have a secret he or she is itching to share?