A few weeks ago, Stephanie Pereira, Art Program Director for the crowdfunding site Kickstarter.com was kind enough to join us at the OpenDocLab. Since in launched in 2009, Kickstarter has set off a collective funding revolution, giving the world projects as varied as the documentary Ai Weiwei: Never Sorry and the Pebble E-Paper watch.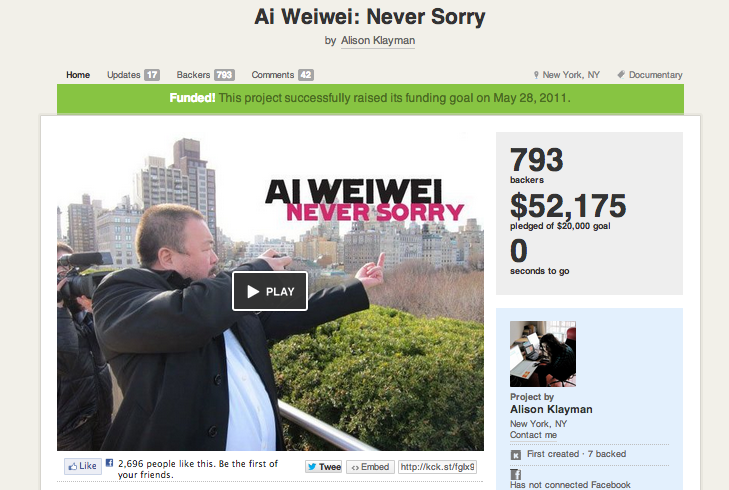 The idea behind Kickstarter is simple. People post their ideas for creative projects to the site, and set a funding goal. Anyone–friends, family, or Internet visitors–can donate money to help make the idea a reality. If the project meets its goal, the creators received the pledged money after Kickstarter and Amazon.com take a small cut. In return for their contributions, funders get a reward from the projects' creators. These perks run the gamut from digital downloads to dinner with a project's creative team.
Stephanie talked about Kickstarter in general, and how it worked for doc filmmakers in particular. Here– in no particular order– are some of the highlights from her talk:
Doc fans support projects that inspire them.
Kickstarter has seen over 430,000 pledges for documentary film projects alone. More than 2,200 documentary films have been funded through Kickstarter to a tune of $38 million. That's a whole lot of movies for the cost of a typical studio comedy.
Kickstarter is a storytelling platform.
People care about the stories behind projects. Compelling storytelling can transform a dry pitch into something donors will want to share on your behalf, whether through social media, email, or plain old word-of-mouth. Unsurprisingly, filmmakers excel in this area, routinely churning out some of the most watched and watchable Kickstarter project videos.
30% is the tipping point.  
If a project reaches 30% of it's final funding goal, odds are that it will get funded all the way. The reasons for this, according to Stephanie, were two fold. Once creators reach 30% they seem to step up their efforts, not willing to let go of momentum. Secondly, people are more likely to fund a project that other people have invested in.
Build in a variety of pledge levels.
According to Stephanie, projects that have 5-7 funding tiers are often the most successful. It's important to have a variety, to balance big gifts with a lot of small contributions. The $25 tier is the most common pledge, but $100 tiers generate the most revenue for the project.
Rewards doesn't have to mean swag.
Many successful Kickstarter projects think outside the box when it comes to rewards. Don't be afraid to use your skills and expertise. A team of designers working on an art project offered design consultations for their top contributors– a reward that, according to Stephanie, was highly successful. Contributors are supporting projects they care about, so they also enjoy it when they get a piece of the project in return.
Katie Edgerton/MIT