Last Thursday, Time Inc.- whose various holdings include People, Sports Illustrated, and of course, Time magazine- announced that the company would make digital subscriptions to its print magazines available on Apple's Newsstand app. Time, currently the largest magazine publisher in the United States, is playing catchup to competitors Conde Nast and Hearst, who've already made subscriptions available through Newsstand. According to the New York Times,
Though it was one of the earliest publishers to introduce digital and tablet editions of its magazines, Time Inc. had until now sold only the app version of single issues of its magazines through Apple. Print subscribers could use an "authentication" process to gain access to iPad and tablet editions.
Time Inc. CEO Laura Lang told the Times,
For a magazine or brand like People or Time, a tablet will become an increasingly important part of the experience. Our goal is to offer content where our consumers want to read it.
Changes in distribution can shape content. Digital distribution of magazines doesn't just mean subscribers can read Time on their iPads during a morning commute (although that's certainly a perk). As the Internet becomes the primary distribution channel for magazines, Time's content will likely shift to fit its new format.
Due to tight budgets and limited staff time, magazines often repurpose print content online. Articles are lifted wholesale from page to screen. Today, the design of digital magazines tends to echo the print version. Interactive elements are limited, and isolated to the side of the screen, in the same way that a static image might appear on a page. But there's no technological reason that digital magazines have to be text and static-image heavy.
Distributed online and repurposing print content, many of today's magazines straddle the page and the screen. In this way, they remind me early films, which borrowed stylistic touches from theater and still photography. Actors would enter from the left or right, as they would on stage, or remain stationary, similar to figures in a photograph. The Whole Dam Family and the Dam Dog, a 1905 Edison short, is a case in point.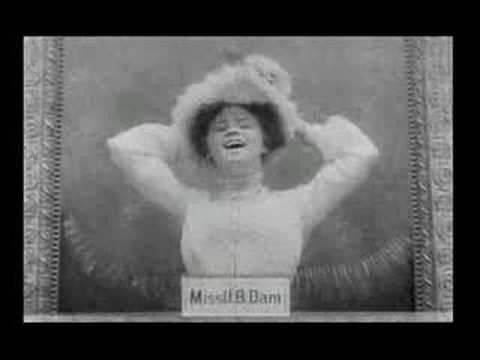 In The Whole Dam Family, the "moving picture" is literally a moving photograph. The camera is stationary, and the members of the titular Dam family appear inside an ornate frame. The film's punchline (add an "n" to the Dams' Christian name) is purely textual.
Funny as The Whole Dam Family is, it doesn't take advantage of the storytelling techniques we now think of as intrinsically filmic. Instead, it borrows from dominant mediums of its day– photography and prose.
Online magazines don't need to rely on print storytelling techniques. But many do. As print outlets become increasingly digital, their content may begin to look more like today's interactive documentaries. Time magazine's stellar Beyond 9/11 feature– which combines copy, video, and an interactive interface– is a great hint of how digital magazines may build on the experience of the print era, and expand it.
As digital distribution avenues increase, magazines' interactive budgets will likely grow. Embedded video and interactive infographics, both relatively common today, are just the beginning of what's possible in telling stories using the web's full potential. Today's interactive experiments may be the 21st century cousins of The Whole Dam Family.
Katie Edgerton/MIT