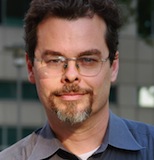 Chris Boebel
Manager, MIT Video Productions
Director, Exit Zero
cboebel AT mit DOT edu
Chris Boebel is manager of MIT Video's post-production unit and a producer of documentary and other video programs at MIT Video Productions, part of the MIT Libraries. Chris is also instructor and co-developer of MIT's "DV Lab", a graduate and undergraduate course that combines theoretical analysis of science documentaries with hands-on documentary production. He has produced and directed two feature films, Red Betsy and Containment: Life After Three Mile Island, as well as a number of short films and television programs. Chris's work has screened at more than 50 film festivals around the world, including the Sundance Film Festival, and has appeared on many television networks, including PBS, the BBC, and Nickelodeon. Currently, he is collaborating with his wife, MIT Anthropology Professor Christine Walley, on a new documentary video project entitled, Exit Zero, a first-person account of the long-term impact of deindustrialization in Southeast Chicago. An alumnus of New York University's Graduate Film Program in the Tisch School of the Arts and recipient of both a Paramount Pictures Grant and a teaching fellowship, Chris has also been a resident fellow at the Millay Colony for the Arts.